Victim Services
Victim Services offers crime victims and their families support and information at every stage of the criminal process. Victims have rights, and the Department of Public Safety is committed to ensuring that those rights are protected. Victim Services works to answer questions and to provide you useful and timely information.
For more information please contact:
Andrea Larsen,
Victim Advocate Coordinator,
VINE Registration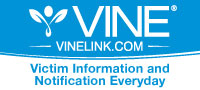 The Utah Statewide VINE system is a service through which victims of crime can use the telephone or Internet to search for information regarding the custody status of their offender and register to receive telephone and e-mail notification when the offender's custody status changes. The VINE toll-free number for the Utah Statewide VINE system is (877) 884-8463. This service is provided to assist Victims of Crime who have a right to know about their offender's custody status.
Register for VINE here.
Victim Reparation
If you have been the victim of a violent crime and seek to learn more about reparations available to you, please visit: Utah Office for Victims of Crime
Download the Victim Compensation Application: