New Department Twitter Account
For Immediate Release
March 24, 2016
Contact:
Marissa Villaseñor, Public Relations Director
Utah Department of Public Safety
Phone: 801-793-8025
Utah Department of Public Safety (DPS) is changing up their social media presence. In coordination with Commissioner Keith Squires and public affairs office,  DPS has changed their Twitter handle from @Utdpspio to @UtahDPS. This is an effort to brand DPS as a whole department rather than just the public information officer (PIO).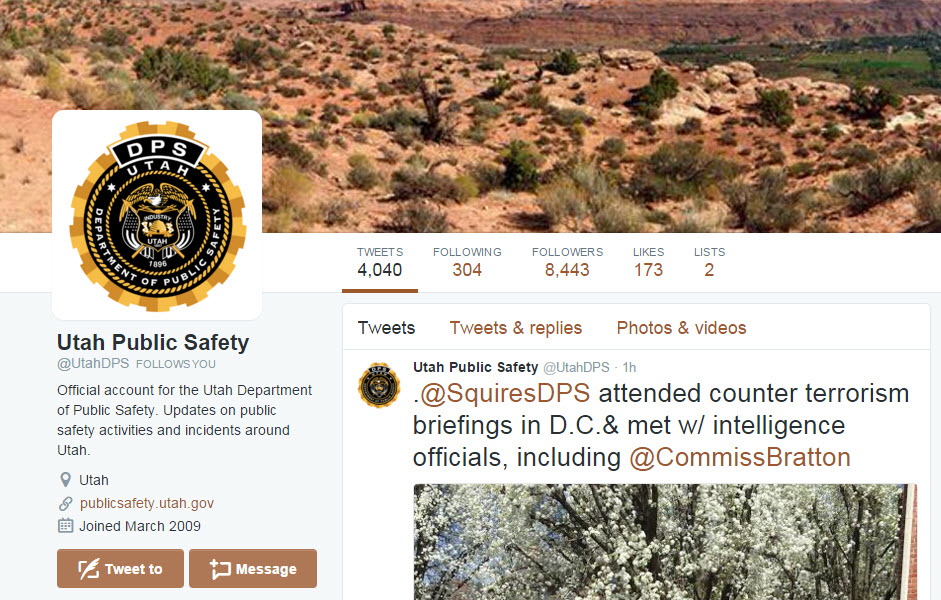 We encourage the public and media outlets to use our new account to engage with us via social media. As a friendly reminder, this account should not be used for emergency purposes.
Here are some of our other official DPS Twitter accounts:
Commissioner Keith Squires: @SquiresDPS
Utah Highway Patrol: @UTHighwayPatrol
UHP Colonel: @UHP_Colonel
Utah Driver License: @Utahdld
Highway Safety Office: @UtahDPS_HSO
Utah Emergency Management: @UtahEmergency
Be Ready Utah: @BeReadyUtah
Great Utah ShakeOut: @UtahShakeOut
# # #