Update on Former Trooper Neil Green CaseNeil Green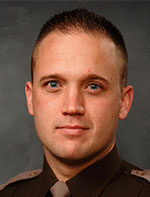 DPS/UHP Administrators are very disappointed in some of the news coverage concerning trooper Neil Green's credibility issue, and how some are portraying this to be a cover up from our agency.  Since his appointment in July 2013, Commissioner Squires has insisted that DPS operate as transparently as possible. As stated previously, as soon as administrators learned of the possible misconduct, trooper Green was immediately relieved of his police powers.  This was a Davis County case, and their office was aware of the potential credibility issues surrounding Green.
As a reminder, and as articulated by Sim Gill, there has never been a centralized system in place for law enforcement agencies to notify all prosecutors in the state of a potential integrity issue. It has always been done on a case by case basis and individual attorney or county. Today the UHP and Salt Lake District Attorney's office began work on a statewide centralized system for all agencies to report. This will avoid confusion in the future.
When the Salt Lake County DA released their media statement, we (UHP) made ourselves available within 2 hours, as we always try to do to accommodate deadlines as much as possible. Because of the short response time, we were not able to answer every question the media had on this issue.
UHP learned today that the Salt Lake County Administrative Sergeant for UHP,  Sergeant Cox,  that handles all the court subpoenas for the troopers, did indeed contact Sim Gill's office in April 2014 regarding Green and his credibility.
Trooper Green was placed in Sgt. Cox's command after he was placed on temporary duty assignment while his credibility issue was being investigated. Very shortly after the new assignment and beginning of an IA investigation, trooper Green resigned from UHP. With Green's resignation it became very difficult to determine the reason for the discrepancy in Green's testimony.
Around the first part of April, 2014, UHP received a subpoena for trooper Green on a Salt Lake County case.
In a memo written to Colonel Fuhr, the sergeant wrote "I contacted the DA's office and explained that Neil no longer worked for us and relayed what Neil had told me about moving to Washington.  I also relayed the specifics about the case that initiated the investigation, the DUI report and whether or not SFSTs were administered in that case.  I told the attorney that I felt it would be best to try and get whatever they could from the case, but it may be necessary to dismiss it.  I specifically said that Neil's integrity was in question and that was the main concern".
The memo goes on to say "I also spoke with someone else from the DA's office, who I think was in some upper level supervisory position at the time, and relayed this information to him.  If memory serves, the person I told took me to another supervisor and I relayed the information again.  I cannot recall specifically if it was Mike Postma, Josh Player, or Blake Nakamura.  I had many conversations with all three individuals during this time about various issues and can't recall the specifics of all of these conversation".
The UHP has been working closely with the Salt Lake County DA's office, as well as other prosecutors offices on this issue and finding ways to improve the process in the future.
DPS has answered every questions about Green honestly and in a transparent manner.  A centralized system which is underway will eliminate the confusion of reporting to 29 Counties and many City Prosecutor's offices Statewide.